December 18 – The Big Easy
We received a big shipment of Blue Sky Bulky a few weeks ago, motivating me to come up with a new pidge pattern. This time I decided to make it big and easy!


This will work up in a flash. I think I'm going to give this one to Mason's teacher, if he approves.
The Big Easy Pidge pattern is our present for today. It will stick around for free, so don't worry if you miss downloading it today.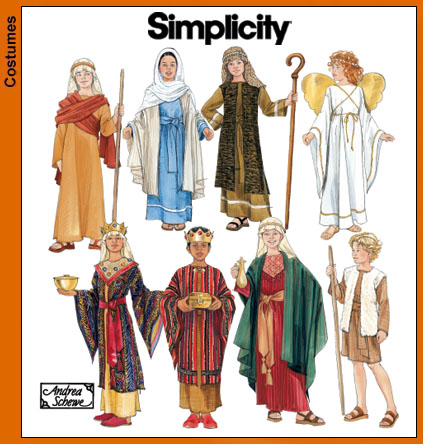 Speaking of big and easy, I started working on Mason's shepherd costume. The pattern is a Simplicity, the kind the annoying manager at the unnamed fabric store thought was more my speed. I can not tell you how bad this pattern is. First of all, it called for yards more fabric than I needed and it turned out big enough to fit me. I have had to go rogue and redesign it to fit Mason. Not happy about that. I don't want to be a sewing designer. Fortunately it is a much simpler design and I should finish it tonight. Think I'll stick with Burda patterns from now on!
Mason did rock the Biedermeier pantsuit Saturday night at the Victorian Walk.


He was really nervous when he saw that the other kids were much older than him, but he did a fantastic job.
The crumpled up blue piece of paper on the keyboard is the TIPS sign he made to put next to his hat. When it was time for him to start playing I guess he changed his mind and crumpled it up.
He played Jingle Bells, We Wish you a Merry Christmas and Silent Night.



Anna and Shawndalynn entertained the crowd with their spinning throughout the evening.


A sleigh full of spring yarn is headed our way and likely to arrive BEFORE Christmas. Stay tuned!